2017 Robert F. Sibert Informational Book Award
For the most distinguished informational book for children.
by John Lewis and Andrew Aydin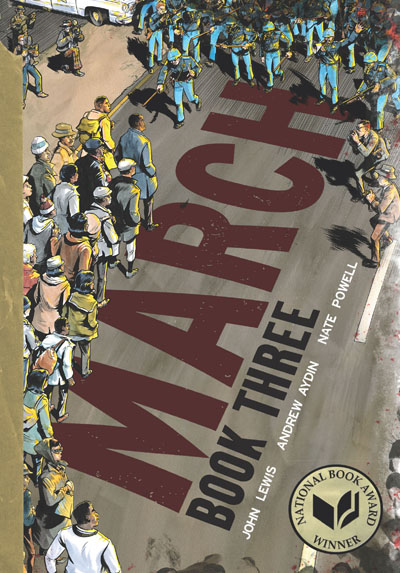 Welcome to the stunning conclusion of the award-winning and best-selling MARCH trilogy. Congressman John Lewis, an American icon and on of the key figures of the civil rights movement, joins co-writer Andrew Aydin and artist Nate Powell to bring the lessons of history to vivid life for a new generation, urgently relevant for today's world.
By the fall of 1963, the Civil Rights Movement has penetrated deep into the American consciousness, and as chairman of the Student Nonviolent Coordinating Committee, John Lewis is guiding the tip of the spear. Through relentless direct action, SNCC continues to force the nation to confront its own blatant injustice, but for every step forward, the danger grows more intense: Jim Crow strikes back through legal tricks, intimidation, violence, and death. The only hope for lasting change is to give voice to the millions of Americans silenced by voter suppression: "One Man, One Vote."
2017 Robert F. Sibert Informational Book Award Honor Books:
by Caren Stelson
Uprooted: The Japanese American Experience During World War II
by Albert Marrin
We Will Not Be Silent: The White Rose Student Resistance Movement That Defied Adolf Hitler
by Russell Freedman
What did you think about "March: Book Three"? Did you enjoy it? What did you like about it? Do you think one of the other books should have won?
Leave your thoughts in the comments section below!